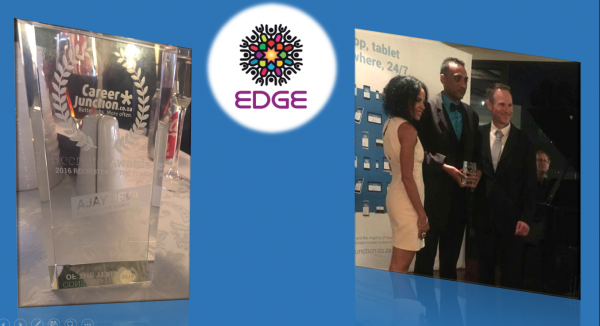 The 13th annual CareerJunction RecruiterAwards, was hosted on the evening of 17 November 2016 in Sandton, Johannesburg.
Edge Executive Search Ajay Jeva was awarded the title of Consultant of the Year 2016 after more than 3000 votes taking the accolades from over 500 recruitment agencies nationwide
Ajay, who represented  Edge Executive Search was 1 of only nine top agencies in South Africa who walked away with awards for best service in 2016.
The awards was presented by Paul Byrne, Managing Director of CareerJunction.
Congratulations Ajay!
Nexia Levitt Kirson audited all 2016 RecruiterAwards voting results and winners.
The awards article by Careerjunction first appeared on Bizcommunity on 22 November 2016