The last few months of university are particularly daunting – while you are excited to finally be at the "beginning of the end," there is so much uncertainty!
Whether you have signed up to travel and teach overseas for a year or even if you have been offered an exciting internship or new job with the company of your dreams – you are about to enter a whole new phase of your life and an entirely new journey awaits.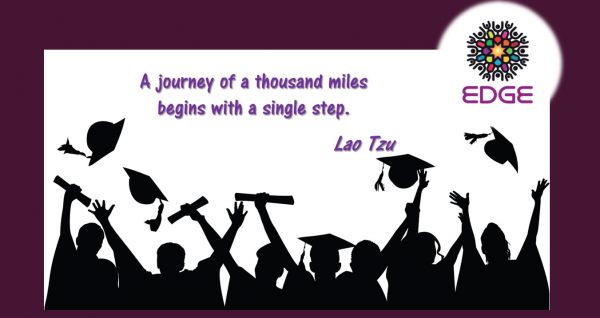 This is understandably an exciting, exhilarating and slightly angst-inducing time for you; however, it is important to keep a few pointers in mind as you set foot on your new journey:
1. Don't fret if you haven't got "it all figured out"
I often hear people say that they do not know what they want to do with their lives or what career path they really want to follow. This is extremely stressful for many people (professionals and university students alike) and emanates from the erroneous belief that you are supposed to know exactly what you "want to be when you grow up" and strictly keep to that path. It is important to keep in mind that we are constantly changing – it is alright not to know what you want to "be" or do with your life. As you start working you will learn what you enjoy and what appeals to you most. Make the most of your experiences and let your experiences be your guide!
2. Sometimes taking a risk and stepping out of your comfort zone can change your life forever
At some point you may be offered an opportunity that is completely out of the ordinary for you or not necessarily within the scope of what you studied, however, don't immediately turn down the opportunity. Sometimes the most unexpected job offers and opportunities can have the most positive, life-changing impact! Many people I studied with have gone on to teach English in China or Korea and they have returned from their travels enlightened and with a whole new outlook on life!
3. There is no such thing as a "useless" job
Many new graduates start in their first jobs and feel disappointed at the number of administrative tasks they are required to do. Some new interns lose interest in their jobs as they feel they are not getting enough "real experience" and are required to do menial, "useless" work. The work that you do in your first job or internship is important (despite the seemingly administrative nature thereof) and your hard work and good attitude will go a long way in ensuring that you are recognised in your work place. Give of your all to every task you are assigned. Work the long hours, put in the hard work and the results will become evident.
4. Never stop networking!
If you have the opportunity to network with various companies and professionals while you are at university – do not forsake this chance! Similarly, when you commence work – take the time to introduce yourself to your new colleagues (don't wait to be introduced) and offer to assist your colleagues whenever you have spare time. If there are open events you are able to attend or if you are invited to company functions – go and meet new people. Talk to different people about their work and life experiences and what they are currently finding interesting at work. Networking will not just open doors for you but you may even learn about new roles and opportunities that interest you.
5. Don't be afraid to make mistakes
Mistakes happen and are inevitable but don't let your mistakes give you a negative attitude. Learn from your mistakes and allow your mistakes to be your teachers in the work place (as clichéd as that may sound!) Don't spend too much time angry at yourself and overthinking.
6. Ask for help when necessary
When you are still new to the working world, you expect a lot of yourself and have a drive to prove yourself. While this is all very good – there may be instances when you require help. The wonderful thing about the working world is that you learn quickly and practically. Your colleagues will remember having been new and understand what you are going through. Discuss your concerns with your manager and ask for help if you need it – always acknowledge that you are on a learning journey and nobody expects you to know everything right away!
7. Don't compare yourself to your peers – this is your individual journey
If you are on an internship or part of a graduate programme, the chances are high that you will be working with new graduates just like yourself with similar qualifications and university experiences. While a bit of competition is never a bad thing – constantly comparing yourself to your peers can be very disheartening. You will have very different strengths to your peers and you should capitalise on your individual strengths.
8. Find a mentor
As you progress in your first job you will notice the importance of having a mentor – someone who inspires you and whose attitude and skills you aspire to. Through networking with your colleagues and professionals in and outside of your organisation, be on the lookout for someone you can approach to be your mentor.
9. Find ways to further yourself personally and professionally
Find ways to further yourself professionally whether it is by taking a course or certification relevant to your job or through reading books and articles applicable to your industry. Always keep abreast of current affairs and industry best practice. On a personal level – make time for your hobbies, family and friends. If you are so inclined, find time to volunteer at an organisation you support and make a difference in your community.
10. Nerves are normal
For about a week before I started my first job I struggled to sleep and had so many questions going through my head: "What if I embarrass myself because I don't know what I am doing?" "What if I am only theoretically smart and not practically?" "What if I don't receive training and am expected to know everything from the first day?" The "what ifs" and overthinking can be particularly damaging. Keep in mind that the nerves and anxiety you feel before embarking on your new journey are normal and will subside when you become comfortable in your new role. Believe in yourself and don't be afraid of change! Remember nothing great can be accomplished simply staying in your comfort zone!
Most importantly, enjoy your new journey and don't forget to make lots of memories!
About the Author:
Kristen Wagner BA Law and Psychology (Rhodes) LLB (cum laude) (UJ) is a Financial Crime Risk Graduate Trainee at FNB in Johannesburg.